Artist: Don Rimx, San Juan, Puerto Rico, B. 1981
Title: "What Happened to Our School?" September 19th, 2020
This mural depicts two scenes from Old Fort's effort to fight racial injustice.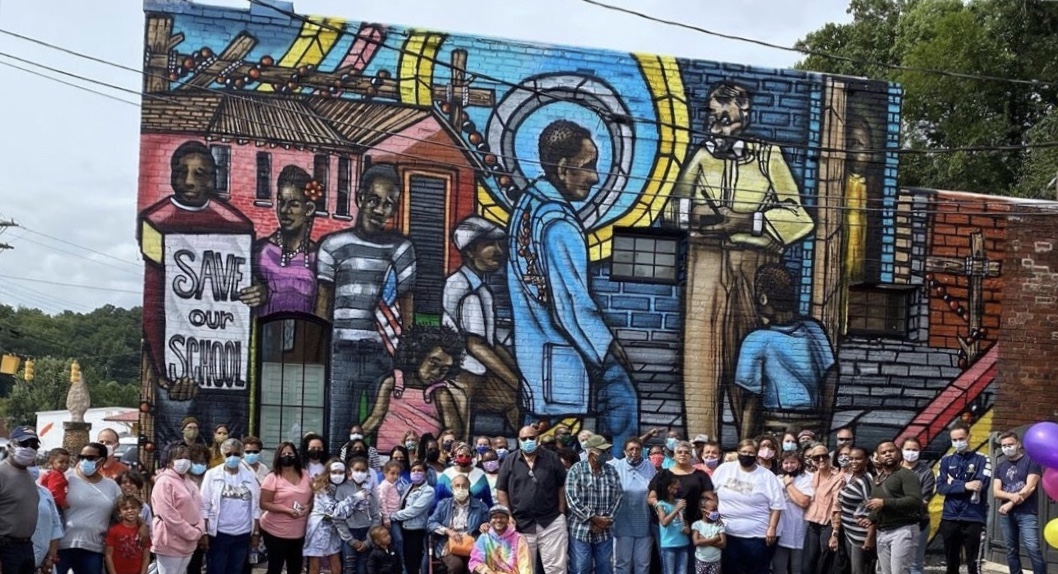 Left Side
The image on the left is based on a photograph of Black school children marching on Main Street to protest the closure of their beloved school, which they called the "Step School" in September 1950. The land and materials for the Catawba View Grammar School were purchased collectively by local Black families. When the school was forcibly closed by local officials, parents retained attorney George Sandlin to help re-open it. During this time, Black school children had to ride 30-miles each day, by bus, to a school in Marion, NC. Despite the demands of parents and students, it was demolished in 1952.
Right Side
The image to the right is based on an event five years later, in September of 1955. In this image, Mr. Albert Joyner, Sr. accompanied Black school children to request to integrate the all-White school. Mr. Joyner protected the students from a hostile and angry crowd of over 300 White protesters. Although in the previous year, the United States Supreme Court's Brown v. Board of Education decision had made segregation illegal, the McDowell County Schools Superintendent, pictured in the mural, denied their request. Despite continued petitions from parents, it was another 10 years before the school was integrated.
---
These two documents were compiled by Kim Effler. They contain historical notes on Albert Joyner, who is depicted on the steps in the mural, and George Sandlin, a lawyer who represented the children of Catawba View Grammar School and their parents. Kim and her husband Jerome now live in the building on which the mural is painted. It was formerly the Sandlin Theatre (1924-1934) and later served as the law office of George Sandlin.